BACK
What we can expect in 2023? Let's talk about trends.
We are approaching the end of 2022, so that is a perfect moment for looking into the new year's plans and ideas. Especially in technology and business, we expect another good year and keep our fingers crossed for a peaceful time for further growth.

The year 2023 is going to be a continuation of the fast-tracked digital transformation of businesses. The coronavirus pandemic, which now seems our "new normal," has forced many companies to rush through cutting-edge technology decisions in business operations. Further development and growth of cloud-native technologies or edge computing will grow with IoT devices seems like a natural way to follow.
What lies ahead in 2023? Here are some predictions:
Digital transformation at risk
Digital transformation will continue to grow. Although the level of digital interruption varies from industry to industry, all of them should consider how to create a strategy to effectively use the available technologies and go beyond business. The rapid changes and expansions of companies that have had to adjust their operations extremely quickly have often forgotten to focus on security or spend money on non-important elements at the wrong time. This topic will come back to "bite" them sooner or later. We can expect that many companies in 2023 will begin to need security audits and implementations to their data to protect their customers responsibly and successfully and also better balance their budgets based on new strategies.
Development and good results
Despite the pessimistic mood in many industries, it is not seen in the IT field. A Gartner report predicts that IT spending worldwide will reach $4.4 trillion by 2022, with a growth of 4% from 2021, not to mention that the software industry will reach $675 billion by the end of 2022.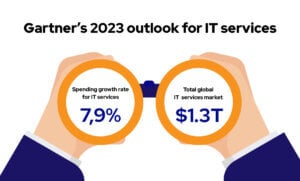 Enterprise IT spending is recession-proof as CEOs and CFOs, rather than cutting IT budgets, are increasing spending on digital business initiatives,
– said John-David Lovelock, Distinguished VP Analyst. Despite market turbulence, geopolitical uncertainty, and IT-related personnel shortages, next year looks bright and promising.
IoT is taking over more areas
According to McKinsey, on average, 127 new devices are connected to the Internet with every passing second. At the same time, an Allied Market Research report predicts that the consumer IoT market will reach $292.83 billion with a CAGR of 13.9% by 2030.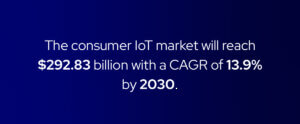 We know that AIoT is a combination of artificial intelligence and Internet of Things infrastructure that aims to create efficient IoT operations while improving data analytics, management, and human-machine interaction. And it is AioT that will become the new next step in the theme of deepening the participation of artificial intelligence in virtually every business area. Artificial intelligence, including mini-Intelligence in 2023, will transform into a fully developed technology shortly.
AI not only in the art market
The impact of artificial intelligence on the art market has been in the news for several months since "modern" artists flooded the art market with designs created with the help of AI. It began a global discussion about the future of art and technology. 
Despite controversies around this topic, experts confirm that AI-based art will perform brilliantly, and revenues from the global artificial intelligence market will record rapid growth in the coming year, reaching more than half a trillion dollars by 2023.
However, AI applies not only to artists but also to real estate, manufacturing, and healthcare. At this stage, virtually every area of our lives is beginning to be served at some level by AI.  
According to Business Insider, banks such as JP Morgan Chase are already using proprietary artificial intelligence algorithms to flag transactions that don't fit standard patterns for further scrutiny. As a result, they can detect financial fraud faster and more efficiently. 
Currently, 63.5 percent of telecommunications service providers use artificial intelligence to monitor and improve their networks and provide the best possible performance to their end customers. This share will increase further in 2023.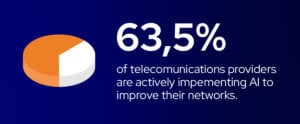 SecDevOps putting cyber security as a priority
First, a few numbers could put the right perspective on the security sector. The DevSecOps market is expected to grow from $1.5 billion in 2018 to $5.9 billion by 2023! With the growing trend, companies will focus on security and compliance to ensure highly secure, continuous application delivery. SecDevOps is an approach to platform automation and design that integrates security as a shared responsibility throughout the IT lifecycle. SecDevOps offers built-in security that acts as an edge around data and applications. It enables early detection of potential threats and fixes vulnerabilities at an early stage.
You can already read about why security should be a priority on our blog > HERE