BACK
Supply Chain – 3 examples of digital transformation
The focus for transformation must be on what will take the company to the next level based on its current status. The next level is not always the goal. It can be a steppingstone, but it must be set in the right direction.
6 min read
In this Article:
Avaya became an example of digital transformation in the supply chain by radical changes. Was it worth it?
Whether Henkel's 2020+ strategy, which included four strategic priorities: driving growth, increasing agility, increasing funding, and accelerating digitization, has delivered the expected benefits.
Has invested in a modern supply chain allowed Pfizer to be a trusted partner?
To succeed in today's complex and volatile world, supply chain technology leaders must research, analyze and implement cutting-edge solutions even more intensely into their companies. Not surprisingly, the coronavirus outbreak has accelerated the transformation in supply chains even more strongly. As a result, companies have begun to adapt their businesses very intensively to the new situation.
Based on research conducted by the Council of Supply Chain Management Professionals (CSCMP) and ToolsGroup, a global leader in supply chain planning software, only 3% of companies experienced no impact to their business from the COVID outbreak. It's worth noting that as many as 90% of companies are now somewhere on the digital journey – an astonishing rate.
The race to digitize has been, and continues to be, won by companies that have analytically approached supply chain transformation and have not allowed ill-considered, quick moves focused solely on confronting competitors and surviving the outbreak.
Data shows that "By 2026, more than 50% of large organizations will compete as collaborative digital ecosystems rather than separate companies, sharing contributions, resources and innovations. ". Each company rallies to contribute to the entire chain's digital transformation and strengthen itself in areas that are strategic to itself.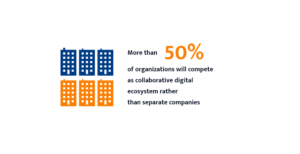 Supply chain managers are constantly looking for resources to increase supply chain competitiveness. This competitiveness is mainly analyzed in the light of cost, time and customer service quality. Today, we already know that one of the essential resources for running a business is digital technologies. What does the path to acquiring these resources look like? Here are three examples of companies that are successfully implementing these solutions in the supply chain:
High – tech Avaya – an example of radical change
Digital supply chain transformation drives growth, reduces risk and optimizes costs, but to be successful, it requires a strong alignment between business and supply chain strategy. Few companies embrace the revolution and digital transformation is seen as a slow evolution. Not so for Avaya, which decided to literally – change absolutely everything in its supply chain.
But who is Avaya? It is reimagining digital communications with innovation that defines the future of work and the customer experience. Their OneCloud ecosystem and solutions empower organizations to deliver experiences that matter to customers and employees alike.
Avaya reduced supply chain costs by 50% and reduced net inventory cash by 94% through digital transformation. At the same time, they could see a 224% improvement in inventory turns and led to 97% on-time delivery.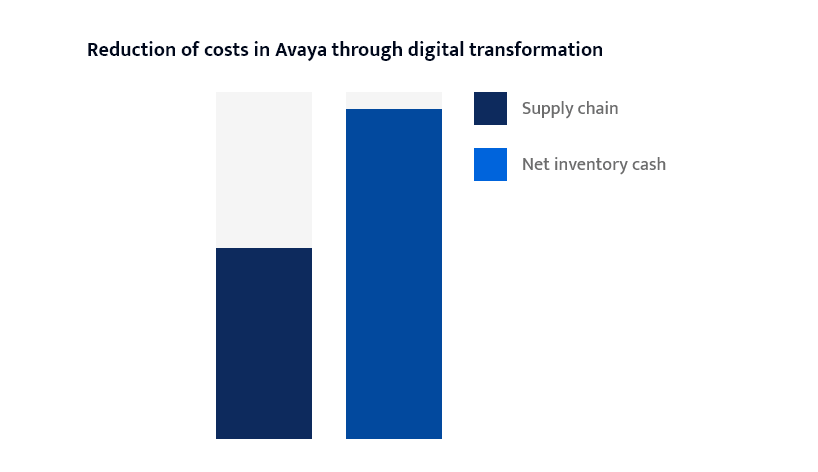 They achieved this because they had persistence, patience and a clear vision to exceed employee and customer expectations while driving profitable growth. The company has also made significant investments to attract, train and retain top talent while building a corporate culture that engages those who want to contribute to Avaya's success. Avaya also measures and reports on more than 100 metrics, each of which aligns with the company's four pillars: customer satisfaction, employee satisfaction, cash-to-cash and supply chain costs.
The father of Avaya's success is Jim Chirico, who transformed the company into a SaaS business growing in the cloud. Growth over the past six quarters as measured by 2021 revenue has exceeded investor expectations, and the stock price has more than doubled over the past 12 months. It's worth noting that Chirico acquired the company when it had experienced revenue declines for 12 straight years.
"I would rate growth as our top priority because we are in the middle of a business model transformation from an on-premises business to a subscription service right now, and high rates of revenue growth are essential to making that work. Overall top-line growth – most specifically annual recurring revenue (ARR) sales growth in our cloud and SaaS business model is our number one strategic pillar. And that is an area we are doing a great job on. We have grown software and services revenue to almost 90% of our total revenue and our recurring revenues are at 66% of total revenue." – said Jim Chirico.
"A second and related strategic pillar is profitability, which stems from growth in a SaaS model," he continues. "As we continue to execute on the strategy and double up our ARR growth numbers every year it will grow our profitability over time.
This allows us to grow but also remain strong from a profitability perspective with EBITA as a percent of revenue in the mid 20 percent of revenue range."
The years 2019-2020 will see Chirico and the company invest in infrastructure, innovation, and internal transformation to restore credibility with shareholders, stem revenue declines, and improve service performance and subscription revenue.
The year 2021 and plans beyond are all about cloud growth and relevance. The plan that Chirico has laid out is about 1% per year. Avaya has become a trustworthy SaaS company, which shows the importance of leadership vision and the courage to make drastic changes and rapid digitization measures for a specific business situation.
The Evolution of Henkel's Supply Chain
A long-term commitment to supply chain excellence is the motto that guides Henkel Corporation. The Henkel Laundry & Home Care business unit in the Netherlands, led by Dr. Dirk Holbach, Senior Vice President of the Corporation, is continuously and sustainably developing digital transformation. This business unit has a turnover of $6.9 million. Within the Henkel business unit, the company is responsible for six regional centers, 33 factories and 47 warehouses.
"As far as the Laundry & Home Care business is concerned, we have been transforming our supply chain in different phases over several years, and in the current phase we are really digging deep into digital. We stand humbly, like many other companies, at the beginning of a big and long transformation journey." – said Dr. Dirk Holbach
The company is pursuing a strategy called "Henkel 2020+," which includes four strategic priorities: driving growth, increasing agility, increasing financing and accelerating digitalization. Holbach also emphasizes the importance of people in digital transformation who are critical to the company's continued growth. One of the main pillars of digitizing the Laundry & Home Care division's global production network is an infrastructure called the "Digital Backbone," which acts as the division's global production data repository.
Henkel Blackbone is a massive undertaking spanning the entire supply chain. Today's factories use thousands of sensors to find ways to improve every task on the production line. This generates enormous amounts of data that, once collected, must be analyzed and understood. Everything should be done in real-time. This provides a fresh perspective on potential performance improvements and insights for even better optimization.
"The goal is clear: minimum input, maximum performance".
Modern technology enables asset tracking at all times, giving manufacturers like Henkel the information they need to make their processes safer, more flexible and more efficient. In addition, digital data enables production teams to adapt to changes on demand as soon as they occur – and ensures that products are always available when customers need them.
Among other things, Henkel has developed digital applications for quality control and plant managers that standardize production and logistics, optimize workflows, and support sustainability. By replacing manual processes and digitizing them, Henkel can quickly collect data, identify trends, and improve quality and efficiency in its production facilities.
To maximize effectiveness, machines are equipped with sensors and micro cameras that monitor every action they perform. Insights from this data enable production teams to detect defects – such as valve failures or load cell errors – early. If one machine on the production line has a problem, others slow down until corrected. Slowing down a production line requires less energy than shutting it down and restarting it. And it drastically reduces downtime, which is vital because downtime can cost thousands per shift.
Pfizer or vaccines in the supply chain
Another interesting example comes from Pfizer, which has faced a huge logistical challenge, testing and adapting its supply chain to produce and distribute a vaccine for coronavirus in the last two years. "We designed everything based on speed, because every day delaying a patient backwards can be fatal," – said Jim Cafone, vice president of business strategy and operations at Pfizer. They were starting with this rather drastic statement, the whole story of how the supply chain and it's even more efficient transformation probably saved more than one life.
The company would have to transform its supply chain to meet this global need. It's important to remind that Pfizer produced 200 million doses of vaccines in a year. "No one has a supply chain and manufacturing capacity that waits for a pandemic," Cafone said, only confirming that change had to happen quickly, and chain efficiency and productivity was key to the whole process. But he was ready for it by taking care of the transformation years before the pandemic broke out.
Pfizer, one of the world's largest pharmaceutical companies, took notice of this changing landscape and first moved its supply chain to the cloud in 2012. In 2015, Pfizer introduced a highly organized supply network, described in the 2016 Annual Review, to gain complete visibility into product status. They could respond quickly to emerging demand and inform the factory responsible for the drug. Pfizer also moved into the e-commerce space with prescription drugs available online. The e-commerce space has provided a more direct, less costly way to move drugs through the supply chain while offering more detailed point-of-service data for demand forecasting and other analysis. It's worth noting that Pfizer has a product line of more than 24,000 SKUs and more than 200 contract manufacturers it counts as partners in 175 countries, making it critical to track products throughout the supply chain.
The company launched the Highly Orchestrated Supply Network (HOSuN) to support all customers by strengthening the supply chain at every stage to achieve this goal. Pfizer is using a range of solutions available for the transformation. Digital Companion is part of the transformation and digital strategy that has been in place for many years. It provides solutions and tools through digital channels to help providers and patients in various ways. Change management is the key to any transformation effort – regardless of the organization. Recently asked: Stan Gloss, founding partner of BioTeam, to discuss Pfizer's digital vision.
"How do you see AI/ML impacting Pfizer's digital discovery efforts?" He replied: "It's essential. We are seeing an expansion of AI and ML application opportunities in every aspect of Pfizer's business. We're using AI and machine learning to bring speed and accuracy to our decision-making at every level: how we respond to safety events or how we approach engagement and site selection in our trials, we're starting to use AI in molecular screening and design, all the way to how we run our logistics and manufacturing processes. There is no aspect of our business that will not expand the use and adoption of AI and ML."
Even though companies are putting vast amounts of money into improving their supply chains efficiency, relatively few companies have unlocked the full potential of digital technologies. A recent McKinsey study found that the average supply chain has a digitization rate of 43 percent, the lowest of the five business areas studied.
This is all the more startling data since the McKinsey study also suggests that companies that digitize their supply chains more vigorously and efficiently can expect to increase annual revenue by an average of 2.3 percent. Over several years, digital transformation can mean losing money or falling behind the competition.